On the way to the end, there are only a few details left. Yes, I still have visits so I am still pinching time from where and whenever I can.
FINAL TOUCHES TO SIDE PANEL)
Considere que la tapa lateral con el ventilador grande era medio "medio sencillo", asi que me propuse hacerle una "pestaña" de acrílico:
I felt that the fan side panel was a little "plain" so I proceeded to make a "brow" out of acrylic: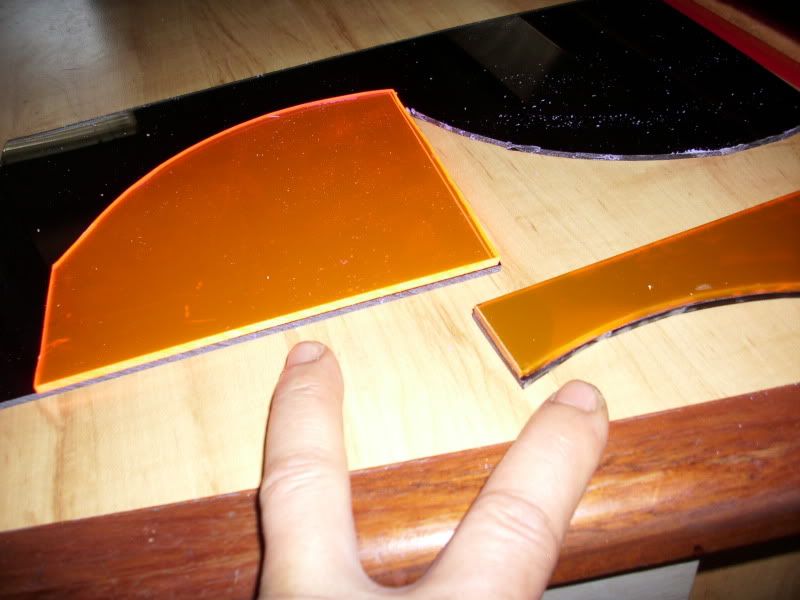 En la ultima foto, pegue el naranja a una base de acrílico ahumado. El resultado es que al pegar el fosforescente al ahumado MATA totalmente la emanación de luz por las orillas.  Me lleva el tren!  Rápido separe los dos y deje secar el cloroformo de ambas superficies. Lije y pulí las superficies para dejarlos como estaban. Solución: atornillarlos junto y así funciona la fosforescencia! (TIP).
In the last pic, I glued the orange to a smoked base. What resulted was the phosphorescence of the the orange part was TOTALLY KILLED. Oh crap! I separated the two parts as fast as I could and sanded and polished them back to more or less as they were. Solution: SCREW the orange to the smoked and that way the phosphorescence works! (TIP)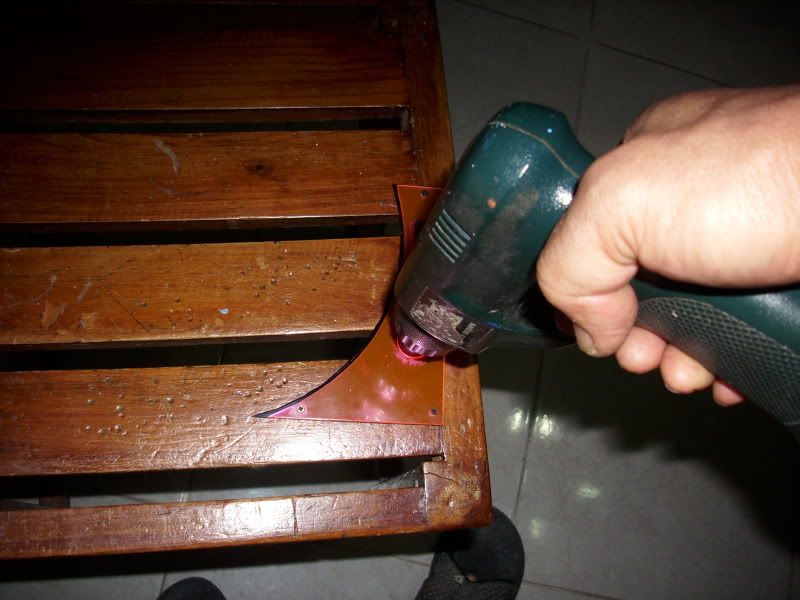 Ahora a darle algo mas de "vista" a la pieza.
Now to dress up the part .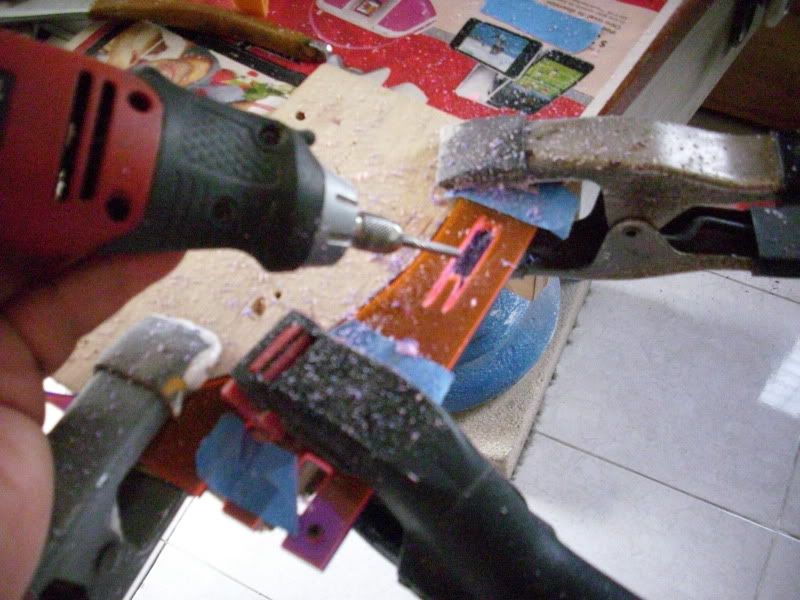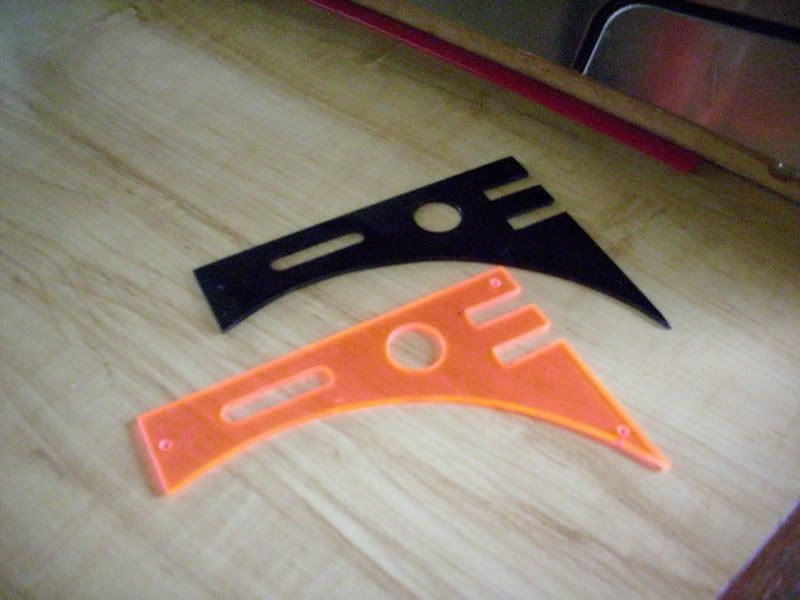 Una capa de pintura tipo cromo al acrílico humo para que refleje el naranja mejor.
A layer of chrome paint over the smoked layer so that it will reflect light through the orange better.
En la parte inferior va un sticker PBR, tan pronto me reparen mi impresora, jeje.
The lower space below the brow is reserved for the PBR sticker as soon as they repair my printer which has been screwed up since the Coolermaster contest, hehe.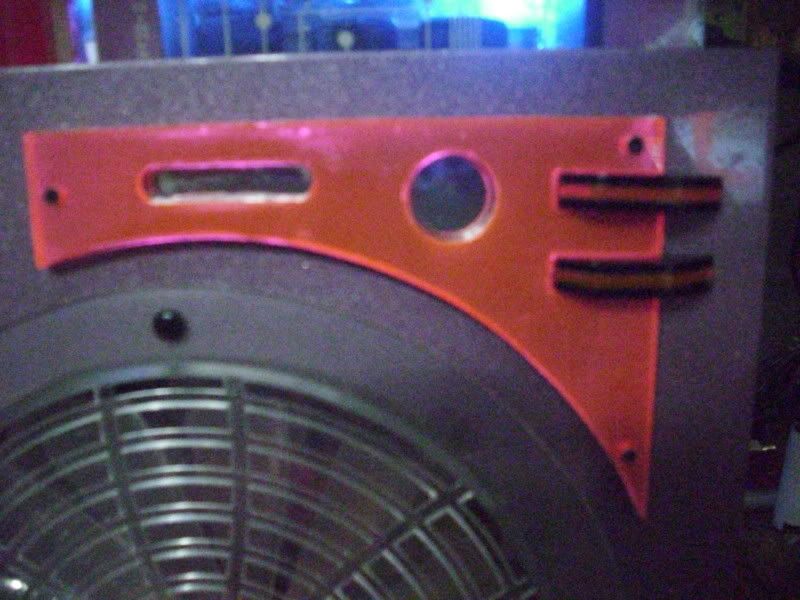 LIGHTING UP THE FACTORY HS FAN)

Por no tener algun ventilador con leds que le quede al disipador de bajo perfil que pide el espacio interior, decidí ponerle un "led puck" (Puk de leds) encima del venti de fabrica del disipador de fabrica con que vino el procesador (Celeron E3300 dual core). Luego pinte el ventilador un color claro gris (era negro) y un poco de funda verde a los alambres.
Since I do not have an adequate led fan for the stock hs which is round (cool and functional but not very modable) nor do I have a low profile hs with led fan, I decided on a "led puck" placed on top of the factory fan. Then painted the fan a light gray and sleeved the wires with green sleeving.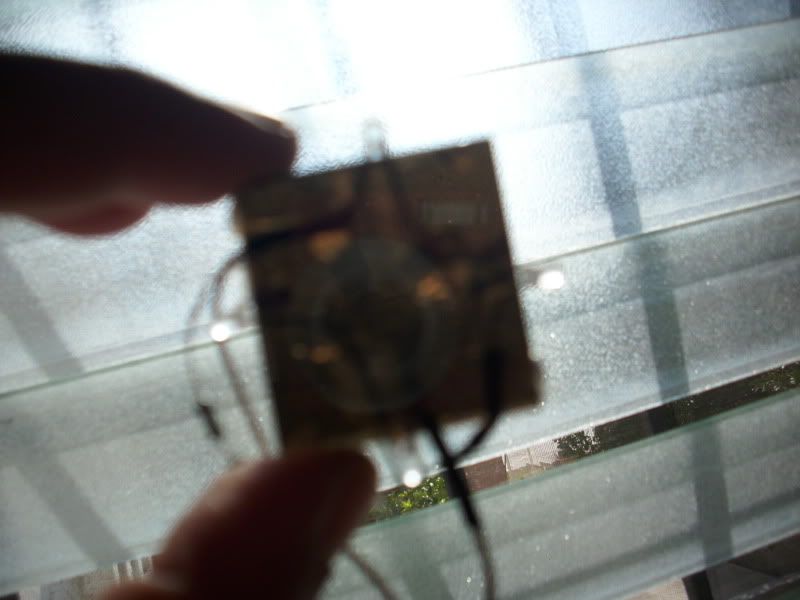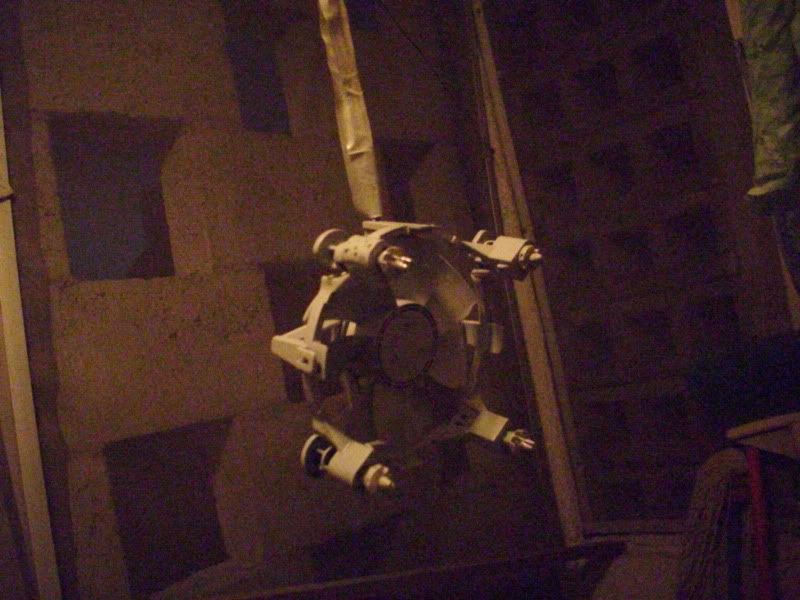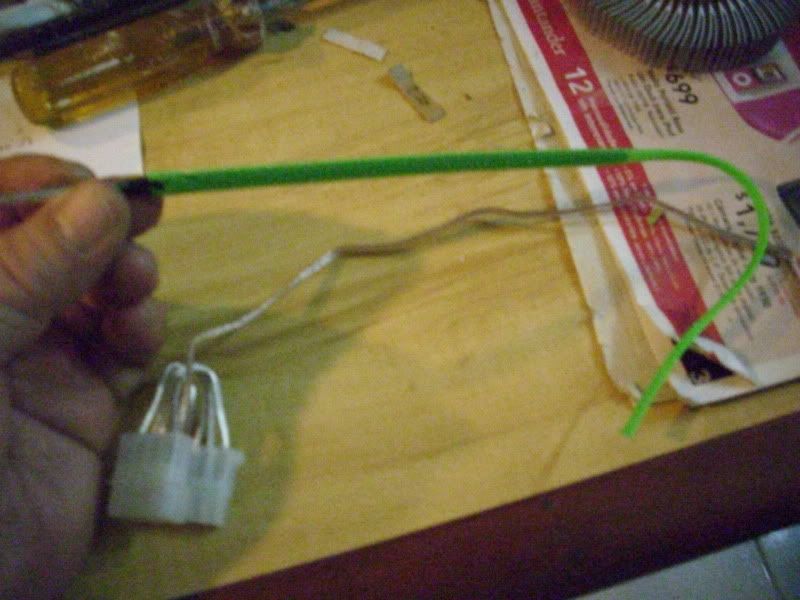 INSTALLING WIN7 ULTIMATE)

Un defecto (?) de la placa es que no tiene un conector IDE y mi quemador de DVD es de IDE :smils06:
A defect (?) of the mobo is that it does not have a connector for IDEs and my DVD burner is still IDE.  :blink:
Me acorde que la vez pasada que vino mi hijo, pedí un adaptador IDE a SATA que me costo como $15usd. Aunque intente un par de días, no pude hacer que booteara de un flash drive usb porque las opciones para arranque son: usb fdd, usb cd rom y usb hdd. En ningún de los casos pude hacerlo bootear!  Alguien lo ha conseguido?  Pero gracias al adaptador, pude usar un DVD con el SO para instalar a la manera clásica.
However, I did remember that the last time my son came down, he brought me an IDE to SATA adapter/converter I had ordered and that cost me $15usd. Although I gave it my best for a couple of days, I could not boot of a flash drive because the boot options for the mobo are: usb fdd, usb cdrom and usb hdd. In all cases the install would not boot in! Has anyone had any luck? Anyways, thanks to the adapter/converter, I used a DVD to make a classical OS install.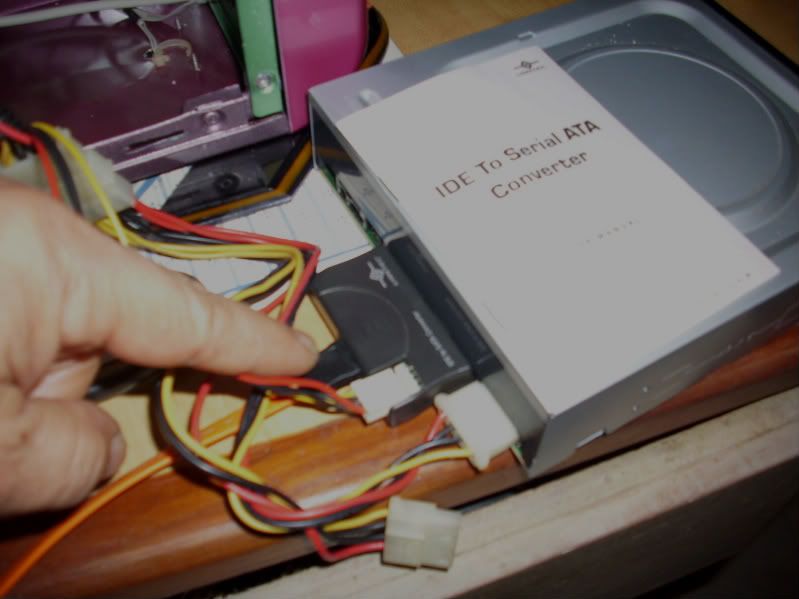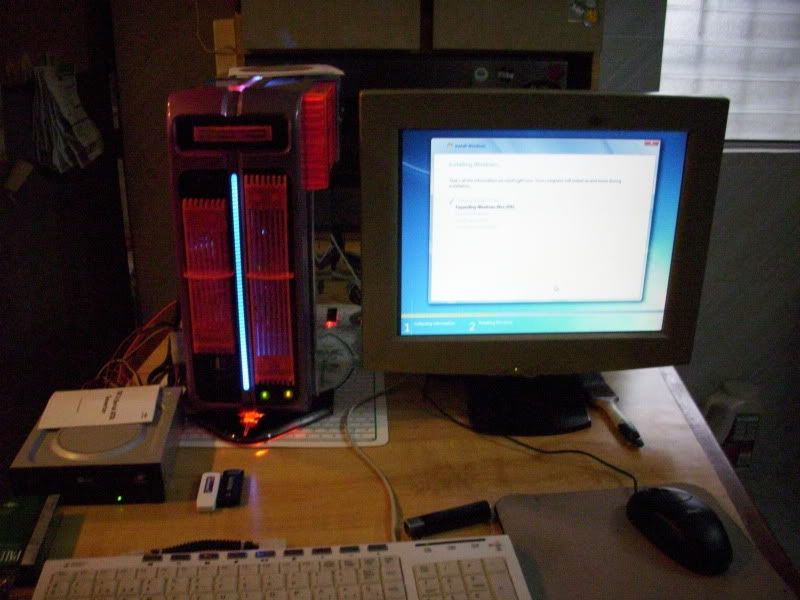 Hora de cerra la tapa lateral finalmente, después de acomodar los cables un poco. Si tuviera mas tiempo, haría una caja central para todo el cablerio y así eliminar la maraña de conectores molex.  También, hora de meter la tarjeta de vídeo. Cupo como Dios mando--perfectamente!  El inconveniente: NO CIERRA LA TAPA LATERAL POR EL VENTILADOR!!!! :smils9:  :smils3:  :smils02  :smils05:  :smils04:  :smils00:
After cleaning up the wiring as much as I could (crap load of molexs), it was time to close the fan side panel (I thought) after inserting the video card which fit thank goodness! The only bummer:  THE SIDE PANEL FAN WOULD SCRAPE AGAINST THE VIDEO CARD! :glare:  :this: 
  :cry:  :blush: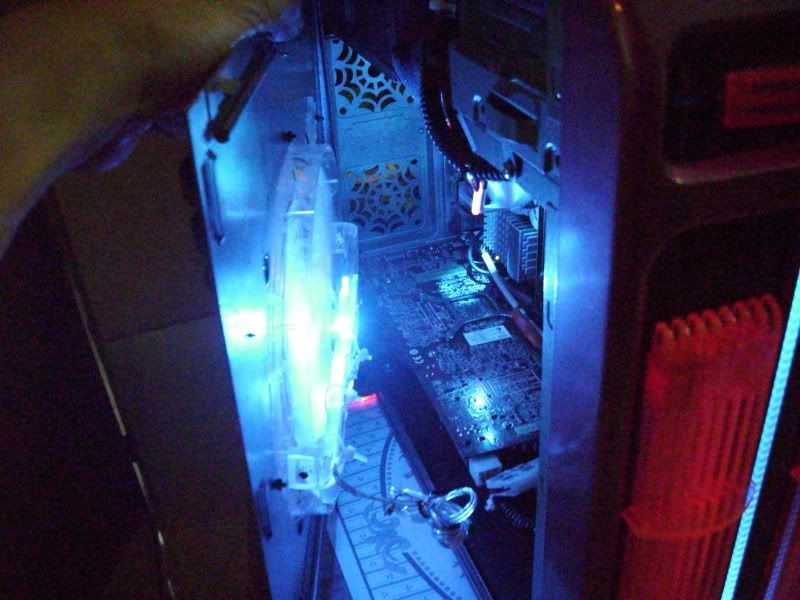 Faltantes: Pintura de arte de lata y sticker con logo NMC para el venti grande. Por lo visto, voy a tener que quitar el GPU externo y usar el interno, blehhhh!!!!
Missing yet: spray can art for the other side (menu holder), the NMC logo sticker for the side fan and print my PBR sticker.  Also from what I can see, I will have to remove the external gpu and use the internal gpu, blehhh!!!
Saludos
M de O Usada: 17 h.
$ Inv.:  -0-
--------------------
Acc M de O: 180 h
Acc. $: $996mn=$76.06usd
I am up to date with this post.
---
Kick butt both ways: at the office and at home with Papang BizRigs!