Well, before talking to you about the project which I began for this competition, let me tell you something about myself and how I came to this point.
One day, when I was surfing in the internet, I saw pictures from personally modified computers. This was the start-point of my interest, and the first changes I made on a computer.
My first modd: I added a side-vent of 120 mm to my then actual computer, creating a window and an engraving. Here are some pictures.
Here the original window, and what I made out of it.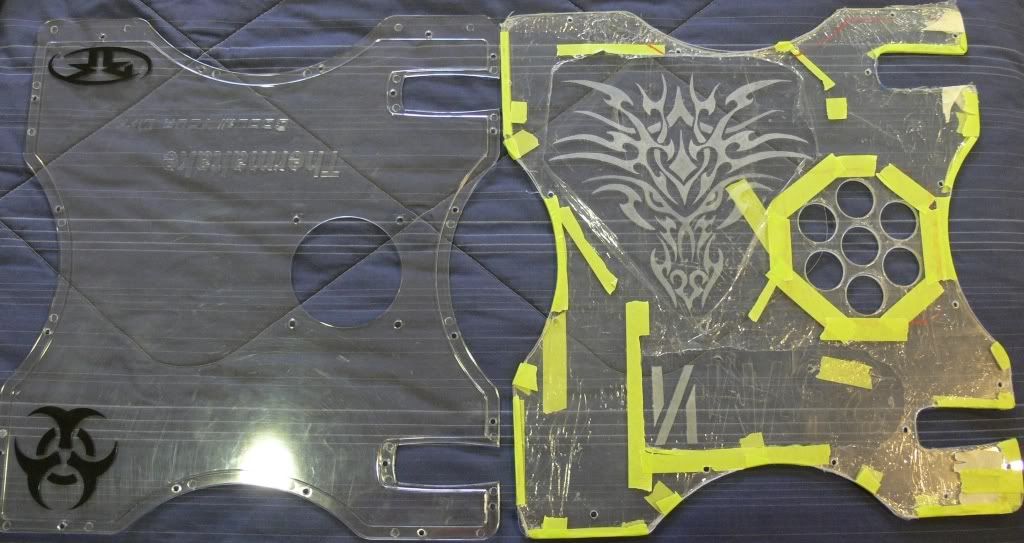 This picture shows how it looked like afterwards, obviously the hardware changed a little bit.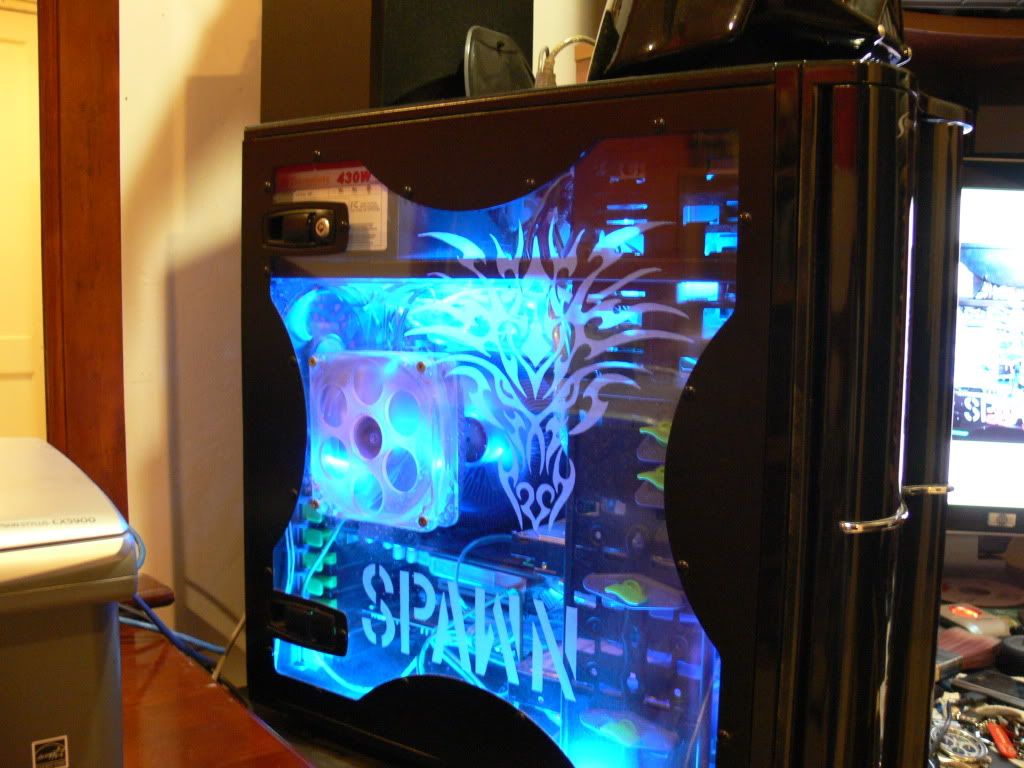 The next modding I made, was for a friend. It was a common cabinet, on which I just changed the look. I put some pictures from this modding for you here.
This was the cabinet, before we put hands on it.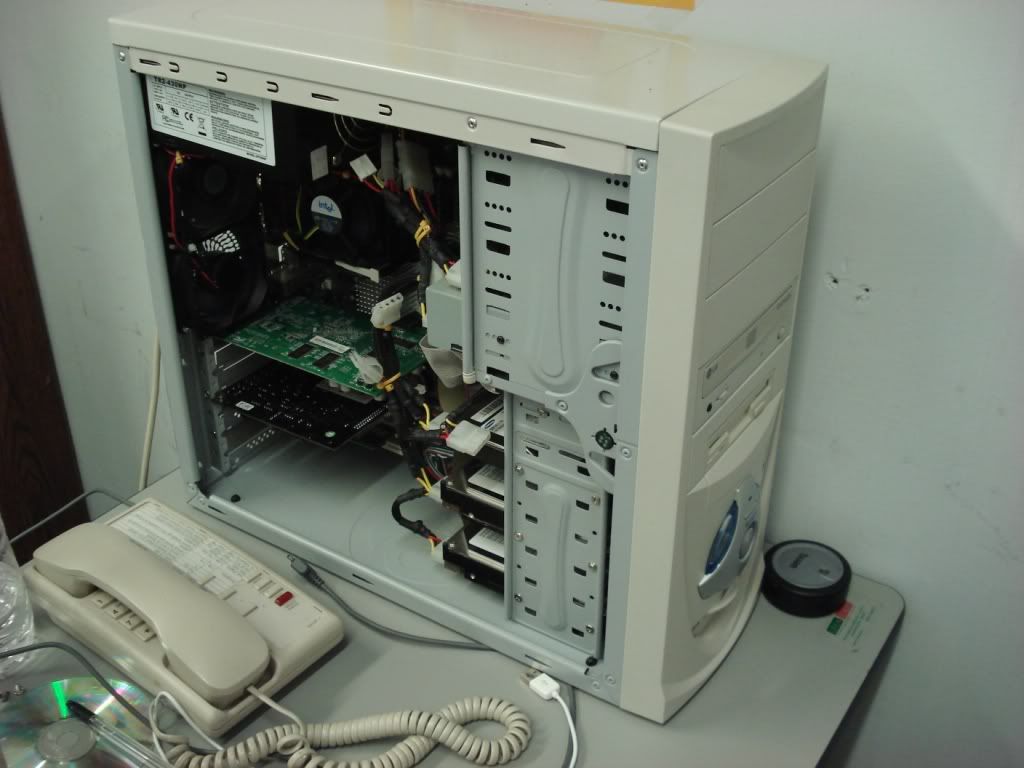 And this is the way it looked like when it was finished.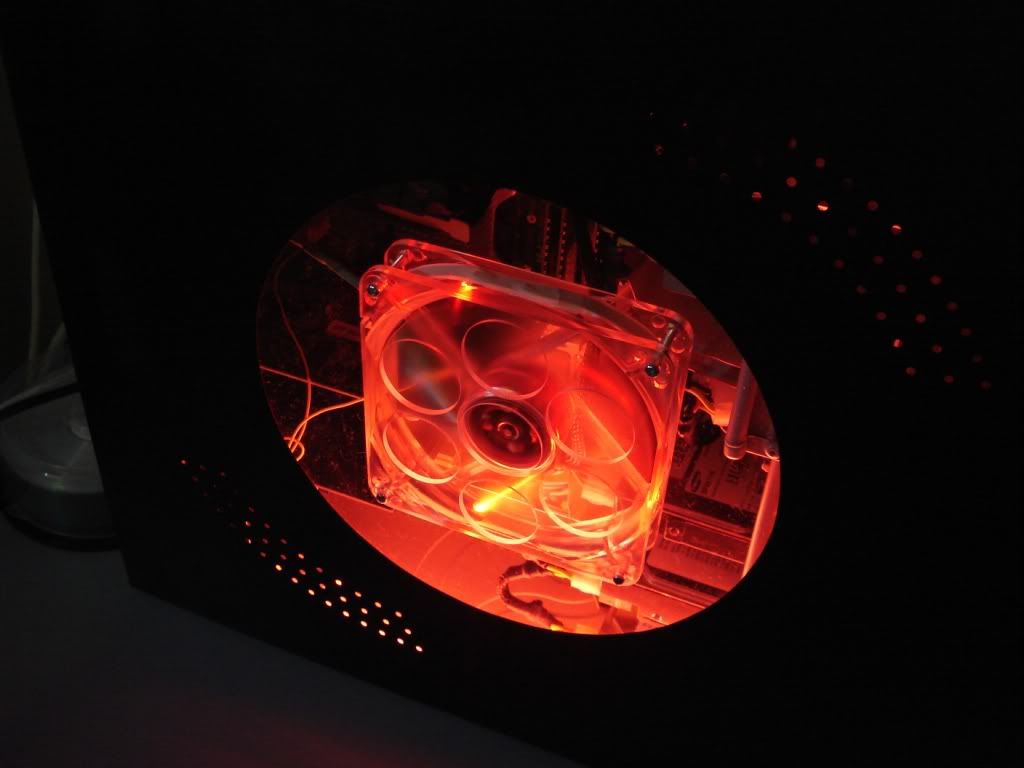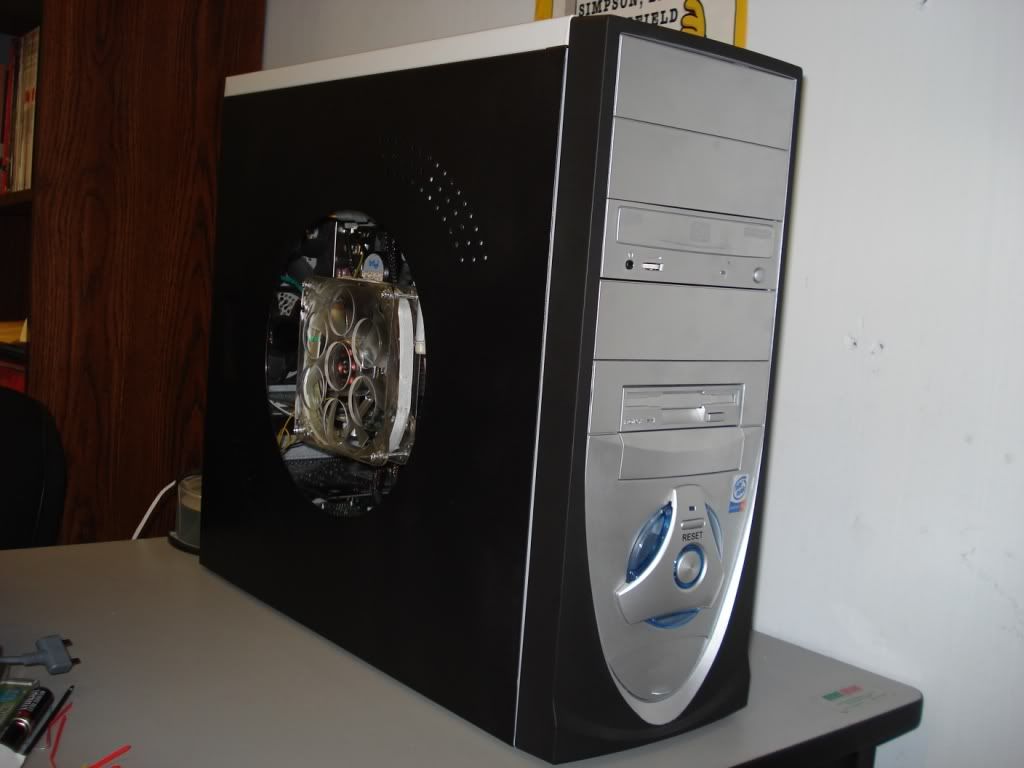 So, you can notice that I do not have much experience referring to modding. But I try to learn from the best. And I try to practice what I see and what I learn.
This is the reason why I took heart to realize this project from the very beginning, something I never did before.
I will give you a brief description about how I began this Project.
I was  quite a time away from modding. Finishing university and beginning to work, I had not much time, and so I forgot about modding. But one day, I found a WEB-page of modding in my country, and I registered. As I was reading a little bit about it, I had the wish to participate, not only as a reader, but as an active modder. And I always had the wish to make a modd from the very beginning on. But I had no idea neither about the theme or the form. So, one day I was reading a post from PaPang about how to begin a modd. In this post he said, that first you have to have an idea about what will be the theme of your modd, if it would be a movie, a game, a comic, animal, sport-team, or anything else. So, this was the first step: what would be the topic of my modd.
So, I was looking around, thinking about , then I checked the web if somebody had not made something about what I had in mind, looking what they had not done, …. And one day, walking around in the working room, which is also a storing room for forgooten things and things we do not use any more, I finally found the theme of my modd.
And this is a barrel, bought by my father many years ago. This barrel has been stored for much time, I remember it since I was a child. We used it as a seat, or as a bench and put things on it. But by the time and as decoration of the house changed, it finally went to the storing room.
Now it had a new destination,  so the project is to make a computer cabinet out of a barrel.
So le tus begin with the woklog and see how it goes.
Here I show you a picture after having rescued the barrel from where it was.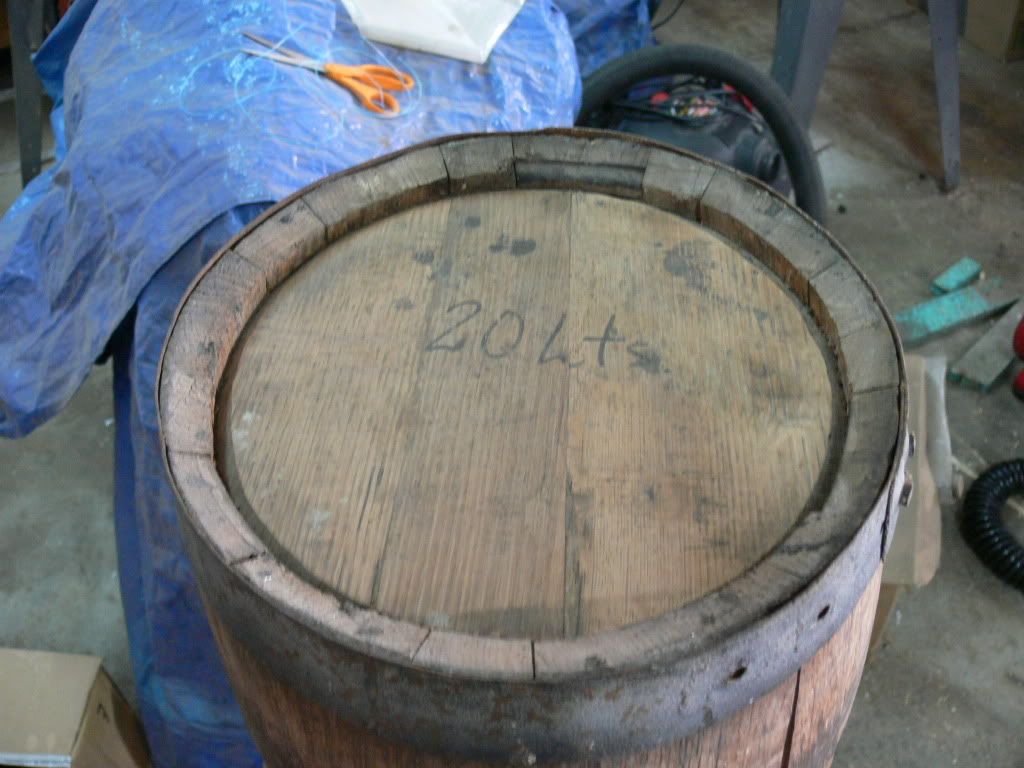 The first step is to take the barrel to pieces. I must see how it is inside and how much work it will need.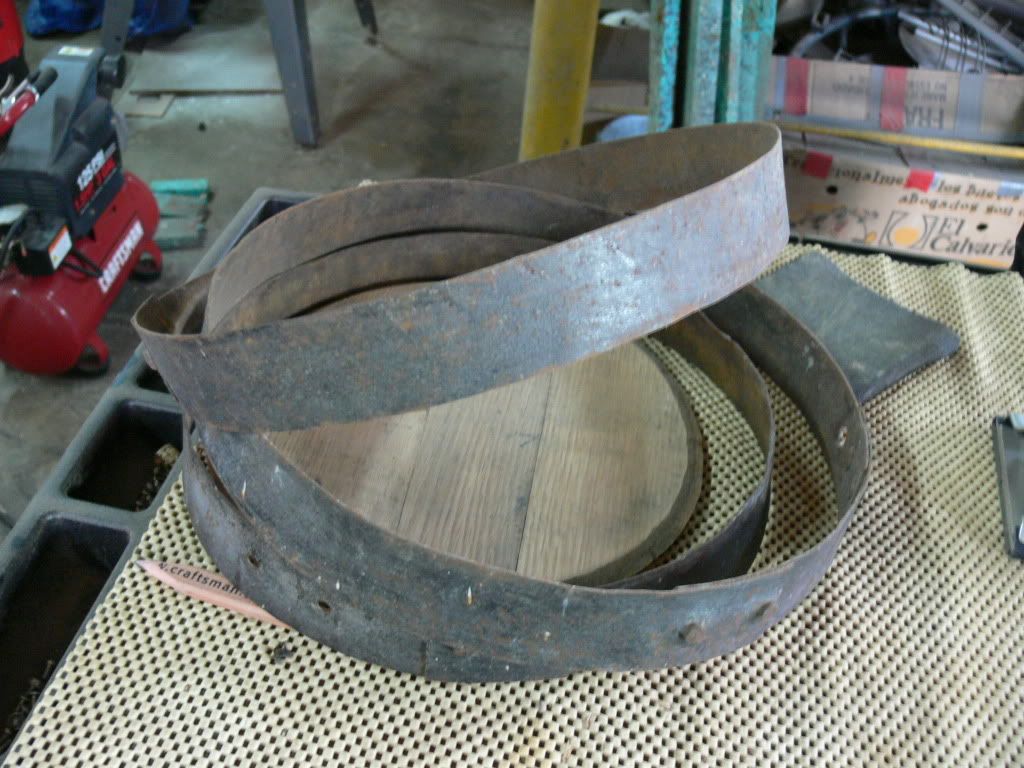 Once I took the barrel into pieces, I realized that the pieces were not smoothed with sandpaper and that they had lots of defective parts. So I had to smoothen all the parts of the barrel. The barrel is conformed by two tops, 16 planks and 4 rings which hold all together.
This is how the planks look like.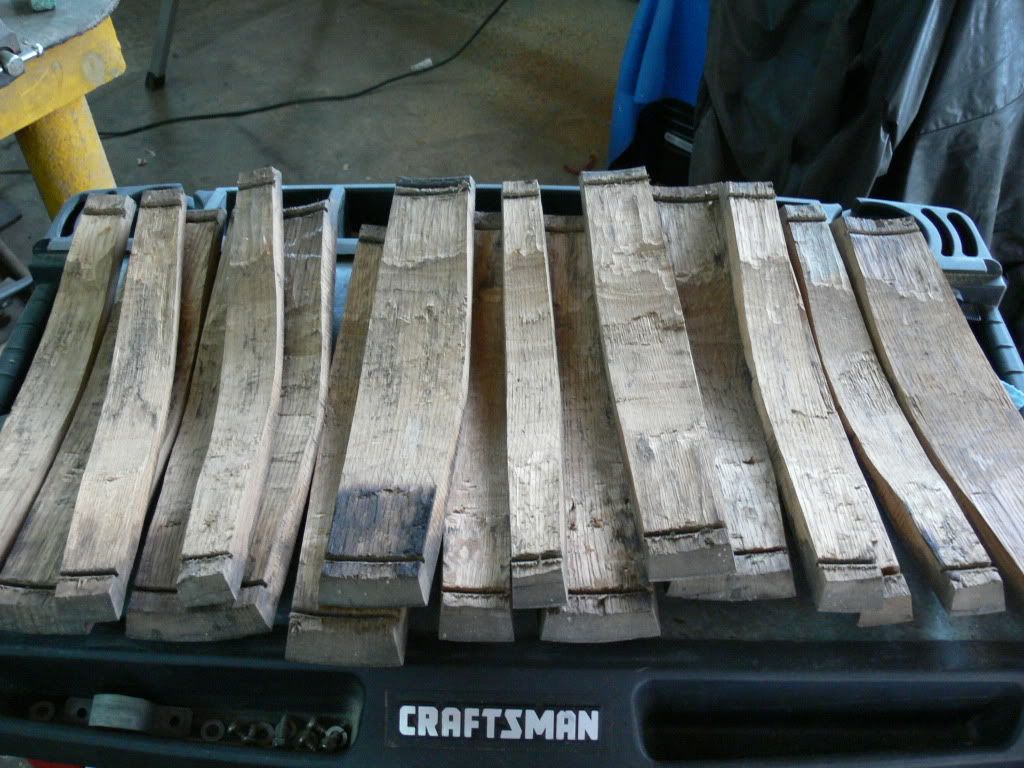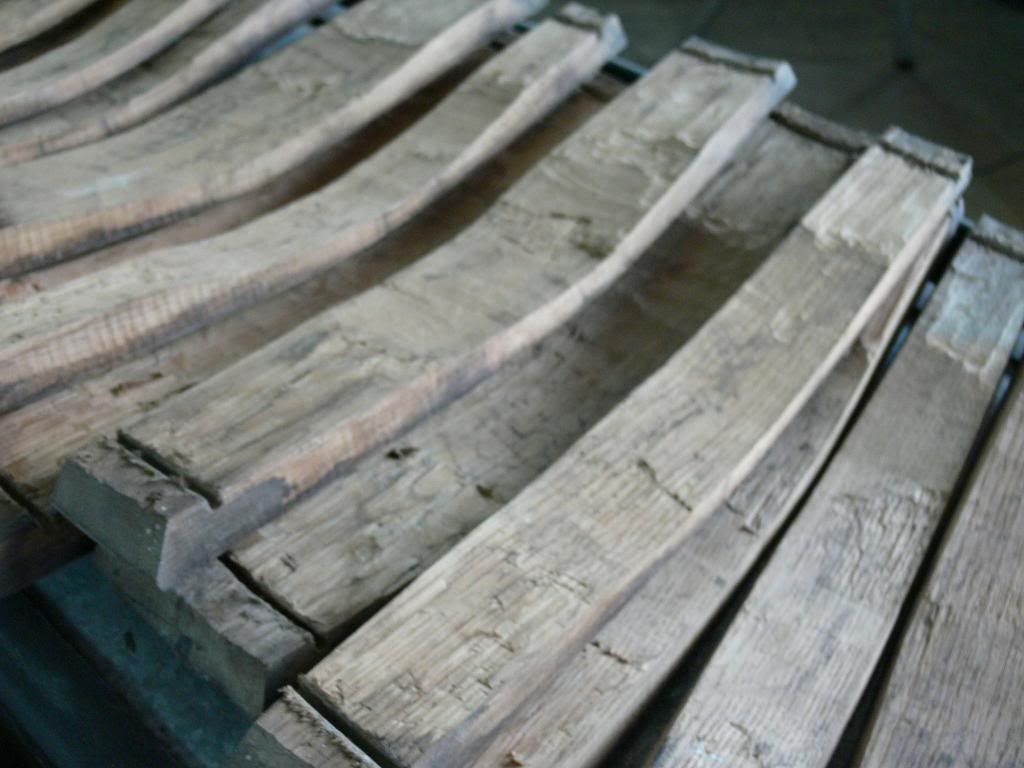 For now, smoothen them  with sandpaper one by one.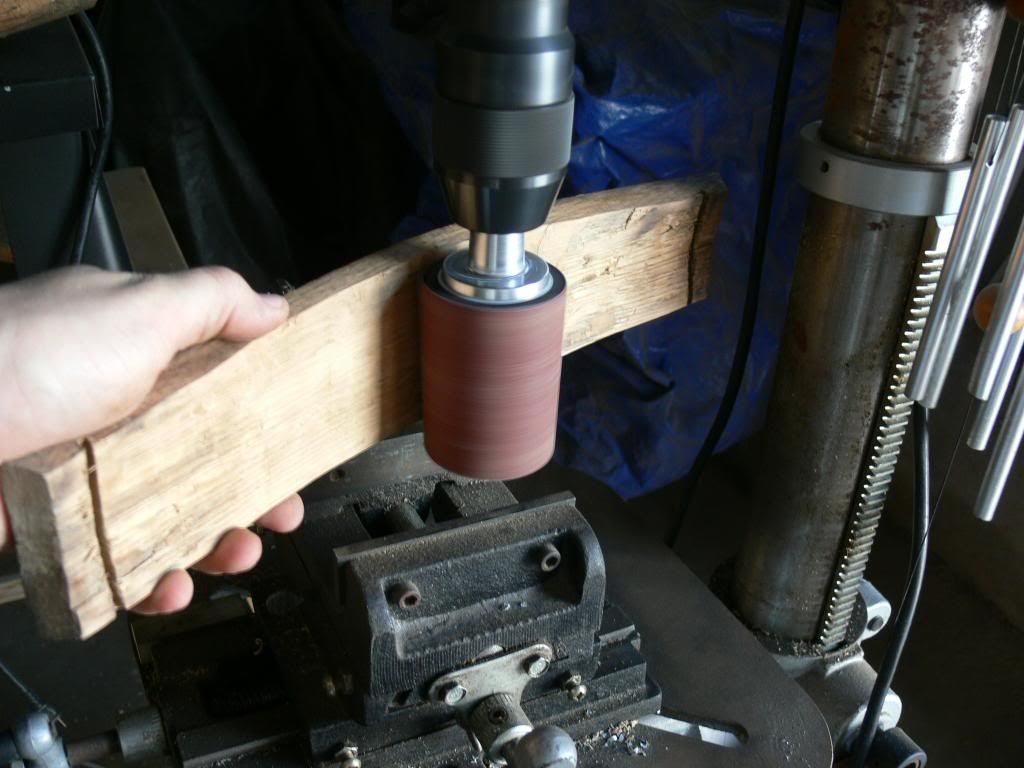 Now smoothen the tops of the barrel.
And then put the pieces together, which is a real challenge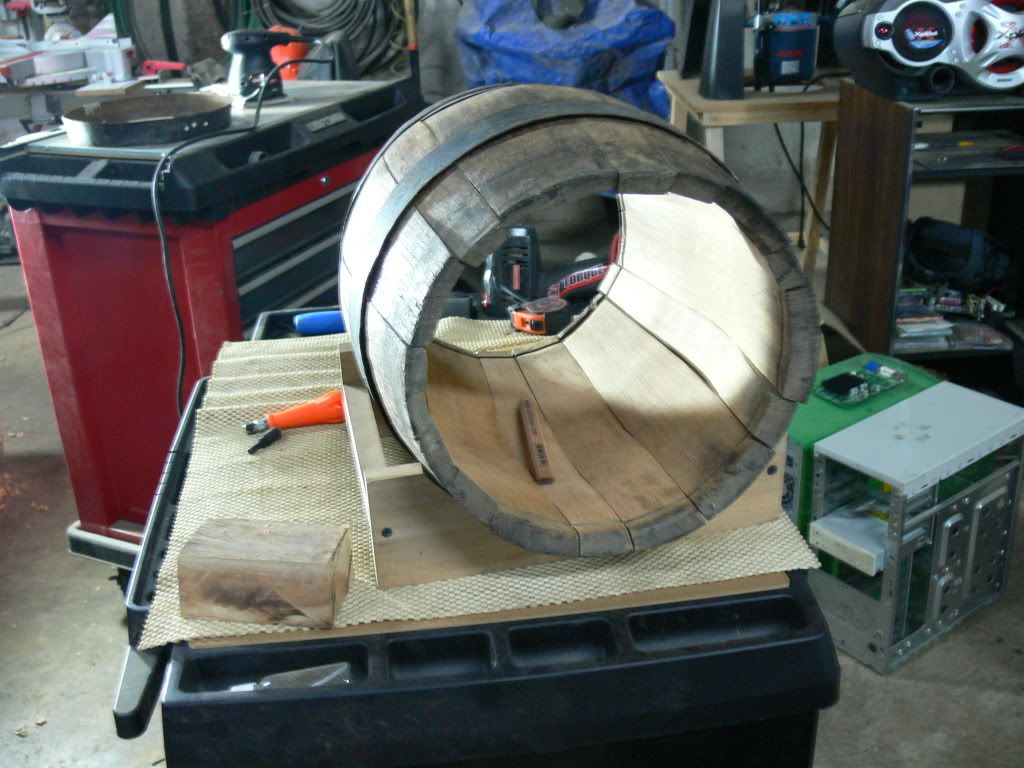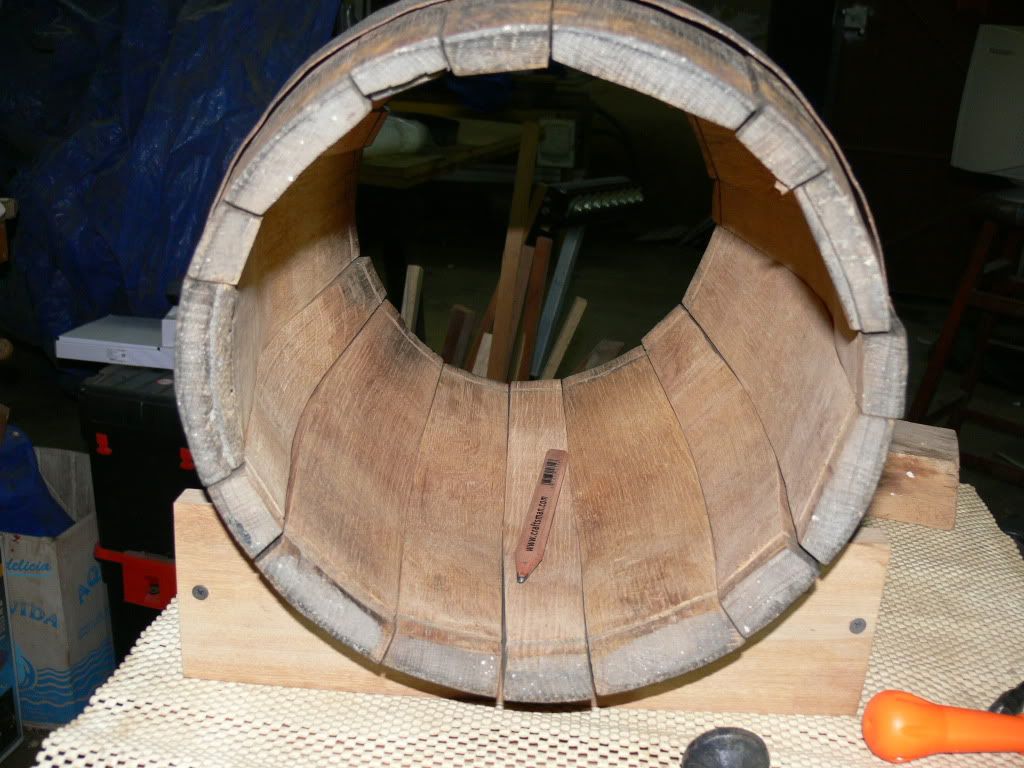 As you can see, I made a small basement which I invented, but the idea is that it finally looks similar to this picture which I found in the web.
The next step after having smoothened the interior of the barrel is: How to fix the motherboard to the interior of the barrel the way it would not be a problem to take it off again.
So I was thinking and thinking. Finally I thought it would be better to leave the part of the motherboard universal, That means that it should not be especially for the motherboard I want to put in this special moment.  So I took one of the tops of the barrel, in this case the back one, and cut a rectangle. Then I put a track in the interior part of the plank. This way I can put and take off the Back Panel I/O, just slighting the panel and changing it for another one.
Here are the images.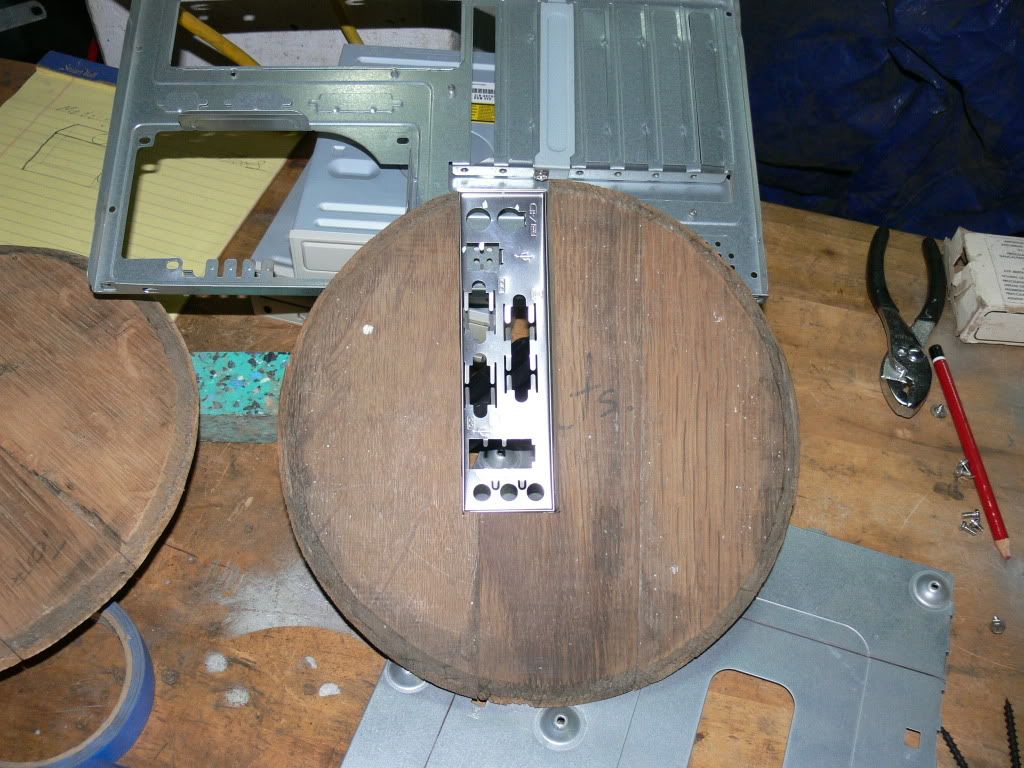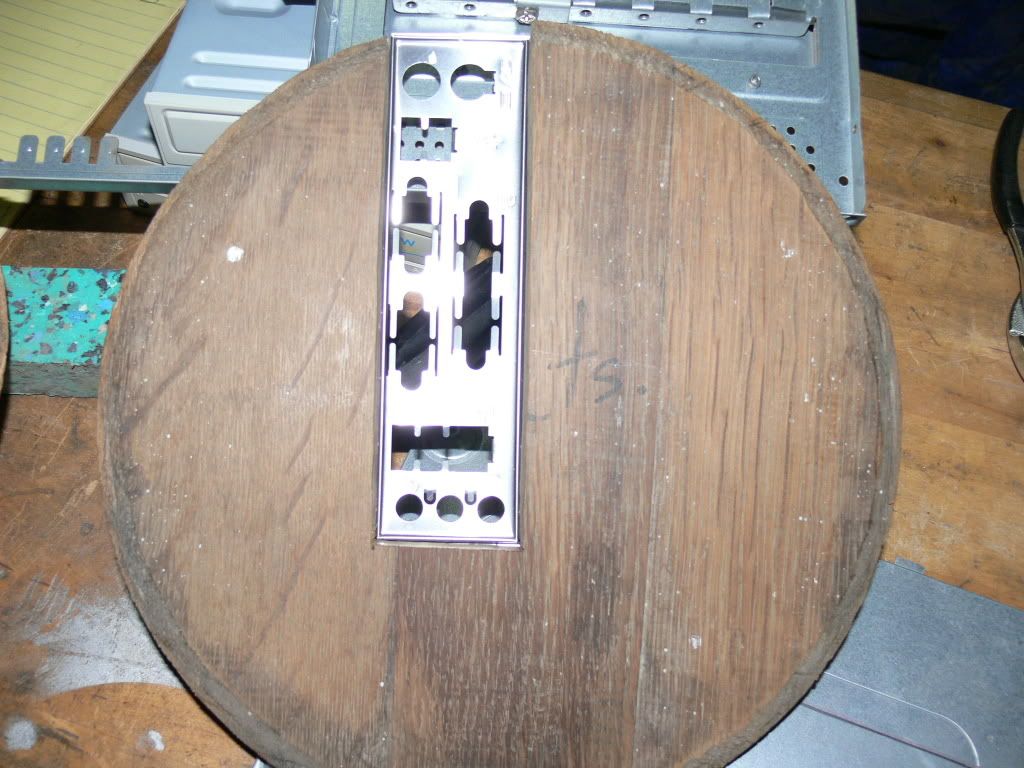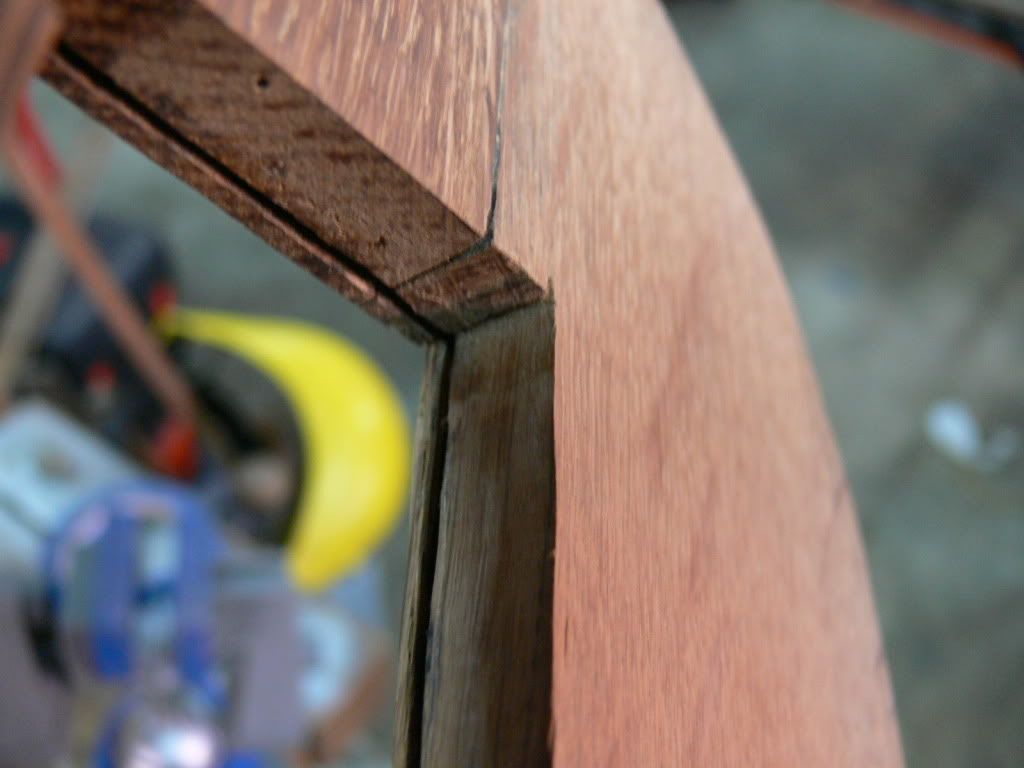 Now, the next step is to make a basement for the motherboard, I did it using some parts of an old cabinet I had forgotten somewhere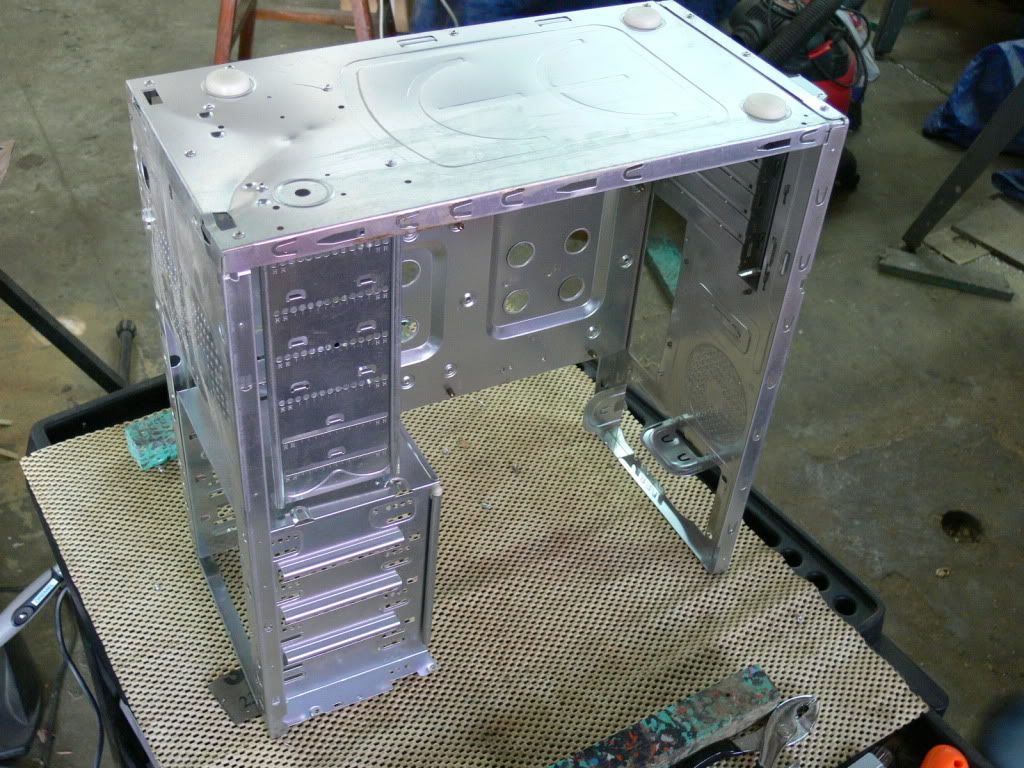 What I did was taking the part where the motherboard has its place, marc it and cut it the way I needed it.
For this step I used a DREMEL and a cutting disc. And, of course, a safety mask.
Do not try to do this at home, hahaha.
Well, here are the first presentations of how it could look like.