Pro Modders:
ADDRESS:
2355 A. Garrido St. Sta Ana Manila
tel: 564-4566/0919-8537796 look for mhike
online map:Click Here
Map: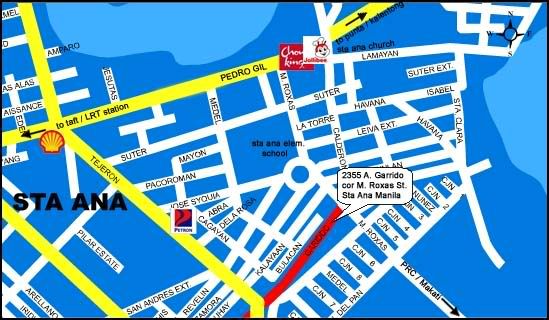 DIRECTIONS:
northbound/southbound areas via/edsa
-coming from EDSA (Guadalupe MRT Station / Cafe Lupe). take the jeep (Delpan/Ibabaw) going to PRC. from PRC you can check out the map and address our place is just 1 tricycle ride away from PRC.
manila area (Taft P. Gil LRT Station)
-coming form taft P. Gil LRT. Station take the jeep (Sta Ana/Tulay) going to Sta Ana. till you reach Sta Ana Market/Chowking. from there you can take a tricycle ride. or check the map.
Pickup points: SM North or at my place
Online Map:
http://wikimapia.org/#y=14663543&x=1210 … =0&m=a&v=2
Map:

Sunny
ADDRESS KO
Phase 3B, Pacita Complex I
San/Pedro/Binan, Laguna
0918-723-6995 (cell)
sunny12558@yahoo.com (e-mail)
sunny12558 (Yahoo Messenger)
Map:

Skateboxx Modworx (Batangas Area Only)
Far SouthEast Luzon Area Casemodder
Text or Call:
Smart: 09192598981
Globe: 09275094528
Map:

EastSide CaseModz™ PC Case Modification Service
Contact Info
Txt or call:
Suncell: 09228591978
Smart: 09213841028
Home: 693-1046 look for Levi
Last edited by doki (2010-05-19 00:55:38)
---
I only drink diluted water.